Home
AEHH provides manufacturers with innovative solutions that increase productivity and reduce injuries, throughout the manufacturing process.  Your needs are covered, from the beginning of the design phase with Engineered OEM Solutions, during production with MES compatible tooling and Plant Maintenance Solutions that keeps your equipment running at optimal efficiency.  Many of these products are showcased in our Productivity Solutions section. 
Contact us today to begin applying innovation to your manufacturing process.
Featured Solutions
This section will give you a quick look at the solutions we feel may be of interest to you. This section will generally be updated on a semi-annual basis. So check in periodically to see what new innovative solutions we have on showcase!
MES Solutions and Smart Tools

AEHH continuously searches for companies that provide products that communicate to MES through Open Protocol, Ethernet IP and many other communication platforms.  Currently, AEHH offers MES compatible solutions where process verifcation and data collect is needed in assembly, material removal, machining and plant maintenance applications.   Listed below are some of the areas that AEHH has helped customers become INDUSTRY 4.0 compliant.
Contact Us to learn more about our eFlex Solutions for MES and tooling that communicates with MES Platforms.
Smart Tooling Applications that Communicate with MES
Torque Control Assembly

Transducer Verified Torque
Batch Counting
Date and Time Stamped Data Collection

Riveting Applications

Batch Counting
Pass / Fail
Date and Time Stamped Data Collection

Parts Selection

Component Usage Verification                                                                                            
Light Guided Parts Selection
Custom Size Shadow boards and parts bins

Machining

Gage quality check verification
Bolt torque verification and batch counting

Material Removal

Pneumatic Grinder performance verification

Plant Maintenance

Bolted joint preload verification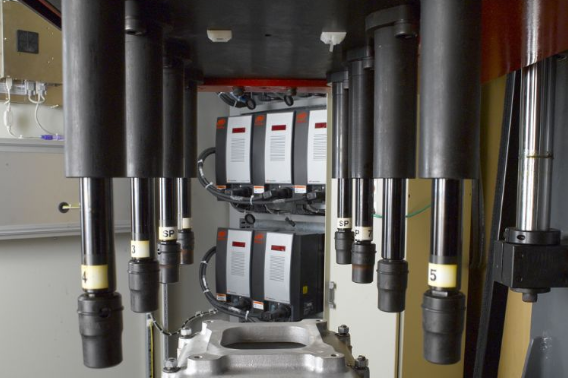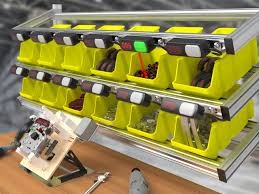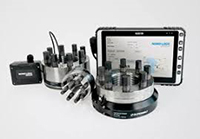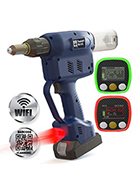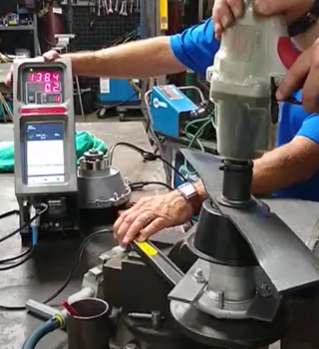 Ingersoll Rand ELK Series
AEHH has partnered with Ingersoll Rand to provide you with innovative solutions to your lifting needs.  Introducing Ingersoll Rand's ELK Series electric chain hoist, this rugged solution covers the range of 1/8 Ton – 5 Ton and is packed full of benifets to reduce maintenace and downtime when compaired to other major electric hoist brands.   With standard sizes shown below and customizable coorosion restance packages, the ELK Series will delivery in your application.
Learn more about the IR ELK Series below and contact AEHH today to apply this innovative technology to your manufacturing process!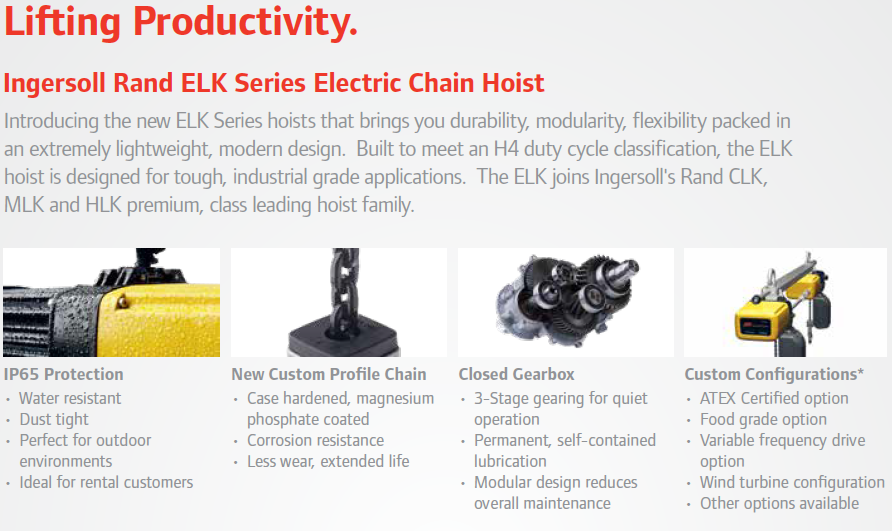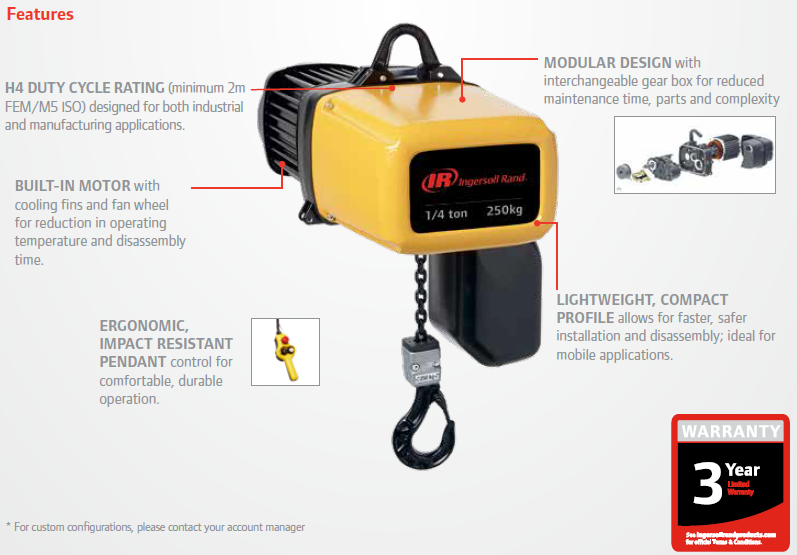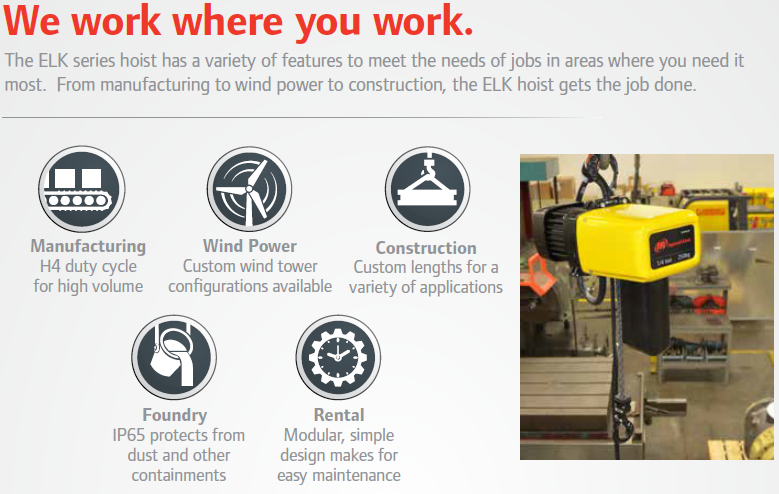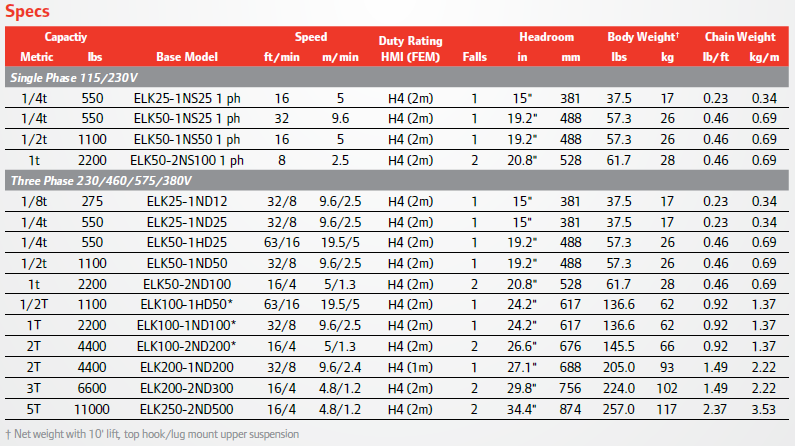 Corrosion Resistant Electric Chain Hoist Options
All components along the load path are made from corrosion resistant material which makes this unit suitable for certain applications in:
Food sector
Clean rooms
Aggressive atmospheres
The cathodic surface treatment of the aluminum housing prevents pain chips and provides excellent corrosion resistance.
Optionally, the gear grease and/or chain lubricant is available in food sector approved versions.
Specifications:
Hoist housing aluminum, KTL treated, resistant against water, oils, and acids
Chain holder and chain limit stop in aluminum
Chain, single or double fall hook block in stainless steel
Load hook, swivel hook suspension or eyebolt suspension in stainless steel
Chain wheel in high alloy steel
Protection DIN 40050: IP65
Gear grease food proofed (optional)
Chain lubricant food proofed (optional)
TORQ TEC Geared Attachment Pulse Tools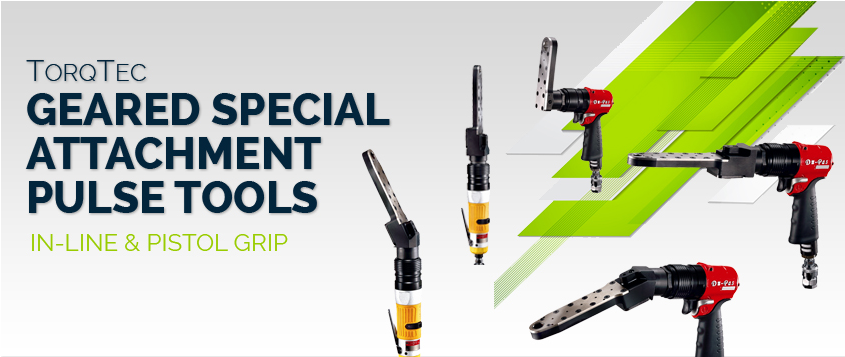 TORQ TEC's geared attachement pulse tools provide much needed ergonomic relief to applications where torque reaction have been seen as "part of the job" for decades. Pulse tools offer reduced noise and vibration compaired to impact wrenches and provide torque control without any reaction like a clutch tool that is often felt as a  "snap or kick" to the operator. 
Contact AEHH today to improve productivity by using  these fast, safe and accurate tools in your assembly application.
Features of reactionless, geared attachment tools
Time Advantages
One step process, eliminates the need to verify torque with a hand wrench or other audit method
Faster rpms than continuous drive tools
Ergonomic Advantages
Hydraulic Pulse mechanism results in little to no torque reaction
Battery Platform in select models eliminates tripping hazards and provides ultimate maneuverability
Reduced noise compared to impact wrench
Less vibration than impact wrenches
Quality Advantages
Eliminate under torqued and over torqued fasteners because tool shuts off or "stalls a torque"
Benefits to Your Process
Decreased Risk of Injury
Improved Quality Control
Reduced Energy Consumption